Air21 Blog Posts

By admin on September 15th, 2017
The expansion of service to Visayas continues as Your Total Logistics Solutions Provider, AIR21, opened the renovated station and acceptance counter on September 14, 2017 at the Arches Building, Arnaldo Boulevard, Roxas City, Capiz. Earlier this week, AIR21 successfully opened its new business hub in Iloilo City (see story here: http://air21.com.ph/…/air21-opens-new-branch-in-iloilo-city/)
"What AIR21 wants is to have a firm foothold in the Visayas Region and the best way to have it is to expand our services in Panay Islands and one of this is Roxas City, Capiz," AIR21 President Reuben SJ. Pangan said.
Together with AIR21's partner, US shipping firm United Parcel Service (UPS), AIR21 promises to continue bringing speedy, reliable, and secure delivery services around and beyond the Philippines.
AIR21 also offers a complete end-to-end business solution with its other logistics services such as warehousing, pick-and-pack, trucking, distribution, and sea freight, along with its door-to-door express delivery.
For more information about our products and services, check our AIR21 Business Hub today or visit our website at air21.com.ph.
At AIR21, Sagot Ko, Padala Mo!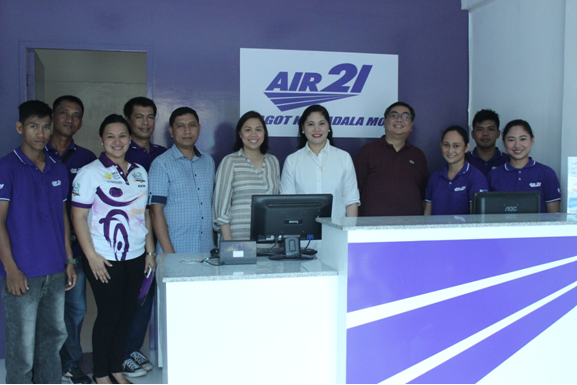 In the photo (L to R): AIR21 Couriers, AIR21 Account Manager April Cabrera, AIR21 Area Network Manager Lancer Bolivar, AIR21 Senior Manager Bong Buca, UBE Media President Donna May Lina, AIR21 Division Head of Retail, Branding and Business Development Yasmin Vasquez, AIR21 President Reuben SJ. Pangan and AIR21 Global Business Center Agents
No Comments