Air21 Blog Posts

By admin on August 1st, 2017
FESTIVAL Mall Alabang – AIR21, the Philippines' Total Logistics Solutions Provider reopens its newly designed business hub on July 28. This branch has been providing logistics services since 1998.
The newly renovated AIR21 Festival Mall business hub now accepts documents & packages for delivery in and outside the Philippines. With the US shipping firm, United Parcel Service Inc. (UPS), AIR21 continues to provide its customers with an even wider range of delivery areas around the world.
"The rains might make us feel under the weather, but with AIR21, we will always be above the weather. We'll deliver our best service, umaraw man o umulan," said Reuben SJ Pangan, AIR21 President.
AIR21 offers a complete end-to-end business solution with its other logistics services such as warehousing, pick-and-pack, trucking, distribution and sea freight on top of its door-to-door express delivery.
For more information about AIR21's products and services, come and visit the business hub today or visit our website at air21.com.ph.
At AIR21, Sagot Ko, Padala Mo!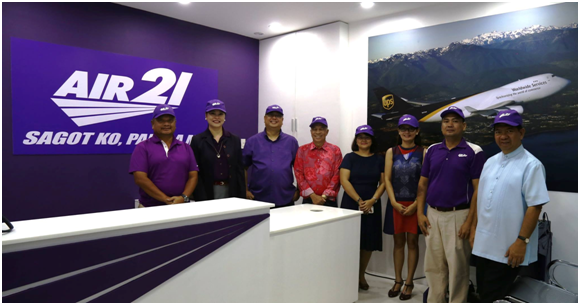 In the photo: (L-R) Rudy G. Fulo, Former AIR21 President, Yasmin Vasquez, Head, Retail Sales & Business Development, Reuben SJ. Pangan, AIR21 President, Alberto D. Lina, AIR21 Founder, Ericka Viray, UPS Planning and Quality Assurance, Tessa Santos, Operations and Brokerage Manager, Dave Ortile, AIR21 Agent, Fr. Rustico Cruz
No Comments