Air21 Blog Posts

By admin on July 1st, 2011
AIR21, your total logistics solutions provider, is entrusted by Columbian Autocar Corporation (CAC), the sole distributor of Kia Motors in the Philippines, to fulfill the Kia Warehouse Management and Distribution for Visayas and Mindanao Area.
AIR21's Cargodega service is perfectly fit for the 2000-square meter Kia Central Parts Depot in Pasay City.
"In the past, we have so many problems when it comes to discrepancies between the figures in the book and quantity of the parting shelves. With AIR21, we're expecting that these problems are totally finished", says Antonio Mallari, Jr., CAC National Parts Manager.
According to Elli Mabolo, AIR21 Senior Sales Manager for Automotive, AIR21  started an inventory count of 14,670 genuine Kia spare parts together with another external and internal CAC auditors. Inventory count started on June 23 and lasted until June 29.
"We realized that we really have to make changes in terms of pinning, in terms of locating our parts", says Bong Rosal, CAC After Sales Director.
Mr. Mallari also adds that "the efficiency in releasing and processing of spare parts is also expected when AIR21 takes over the operation."
Materials are now arranged according to movement, to group, to classification, and to model. A rough count of 14,700 parts are expected to be reduced before the total management turnover.
"The most notable change is it's more organized right now", shares Mr. Rosal. His trust in the company is manifested in saying "I believe that AIR21 has the competence in coming up with a better warehouse management."
July 1 marks the total turnover of the Kia Warehouse to AIR21. Nine AIR21 warehousing personnel will be stationed to focus on this project.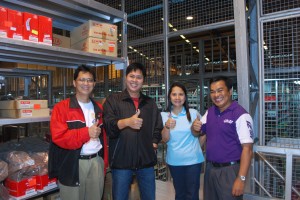 (From L-R) CAC National Parts Manager Antonio Mallari, Jr., CAC After Sales Director Bong Rosal, AIR21 Senior Sales Manager for Automotive Elli Mabolo, AIR21 Kia Warehouse Management and Distribution Project Manager Frank Niedo
No Comments