Air21 Blog Posts

By admin on June 23rd, 2021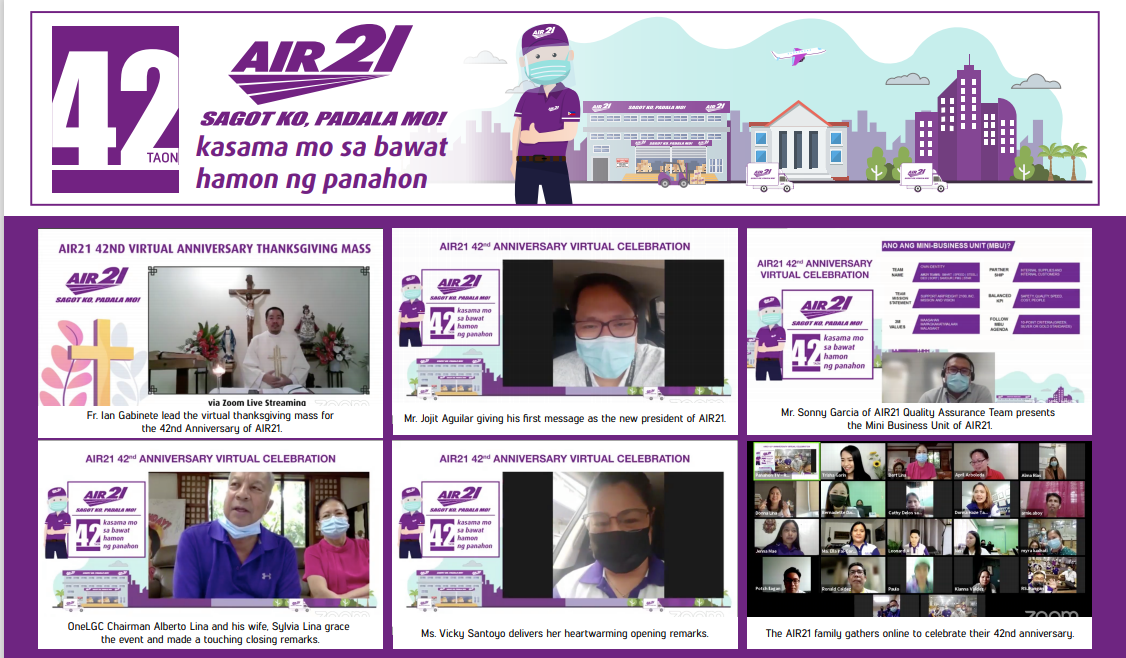 AIR21, your Total Logistics Solutions Provider, celebrated its
42nd anniversary titled "42 Taon Kasama mo sa Bawat
Hamon ng Panahon" on June 21, 2021, via Zoom and
Facebook Live.
The anniversary celebration started with a mass led by
Fr. Ian Gabinete. Ms. Trisha Garin of Panahon TV hosted the
event, leading with a warm welcome to all the AIR21
employees tuning in from every part of the Philippines and
to all the special guests from the OneLGC as well. "Ang AIR21
ay hindi lamang isang organisasyon o isang institusyon, ito
ay isang pamilyang nabuo at pinagtibay ng mga pagsubok
at hamon ng panahon," says OneLGC HR Director Ms. Vicky
Villarosa-Santoyo during her opening remarks.
Mr. Alberto D. Lina, Chairman of AIR21 and OneLGC, gave his
opening remarks saying "42 – double 21! Sana 21 more years
ay maranasan pa natin." Mr. Lina also announced the new
president of AIR21, Mr. Joseph Nathaniel Aguilar.
"I know that leaders are meant to serve and I am here to
serve the requirements of our customers, our people, [and]
our organization," says Mr. Aguilar.
To formally introduce AIR21's Mini-Business Units (MBU),
Mr. Sonny Garcia from AIR21's Quality Assurance Team gave
a short presentation on what the MBU's are all about.
Afterwards, Mr. Aguilar returned to recognize the top
performing AIR21 employees in their respective departments
and present to them their certificate of appreciation.
All of this emphasizes the skill and hard work of AIR21
employees and that they are the reason why AIR21 has been
going strong for 42 years. These awardees are:
Finance Department
– Roldan Depon
– Paolo Pareha
– Nerisha Tungkalin
– Samuel Gadingan Jr.
Warehousing Operations
– Edelberto Susulin
– Monette Negado
– Hazel Quiroga
– Jayson Talabis
– Reynaldo Gabuterro
Accounts Management
– Cathrine Delos Reyes,
– Joshua Gomez
– Jinel Soro Soro
Corporate Sales
– Cheeny Allen Salping
– Jeany Dela Chica
Gateway and Manifesting
– Shean Ray Catindoy
– Aileen Inaudito
– Efren Beronia
– Jeanalyn Pacheco
– James Noderama
Pharma Operations
– Reena Pascual
– Jaymel Pascua
– Raymond Abellana
– Aldren Santisima
NCR and SLR Couriers
– Melvin Mangila
– Oscar Ginazales
– Percival Onabia
– Arnold Odi
Regional Business Development
– Donna Hazel Taguba
Mrs. Sylvia Lina bookended the event with her closing remarks,
reflecting on how AIR21 started from adversity, succeeded all its
challenges, and is still here 42 years later. "Thank you so much
for all the support you have given, are giving, and will give to
our Chairman and AIR21" says Mrs. Lina. "We love you all and
we look forward to more years to come."
No Comments