Air21 Blog Posts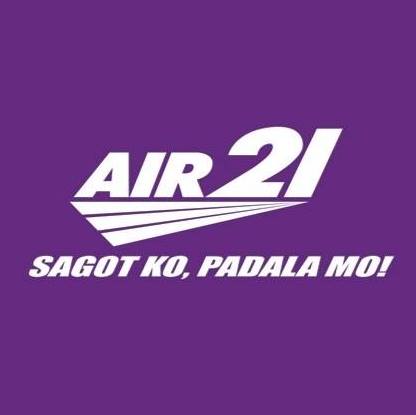 By admin on June 26th, 2018
In its 39 years of pioneering logistics innovations, AIR21 has pushed for excellence finding both inspiration and challenge in a timeless promise it has offered its stakeholders: SAGOT KO, PADALA MO.
Today, hailed as the industry's leader in digital transformation, AIR21 is the preferential partner of the Philippines' major supply chain industries in bringing local businesses to greater heights and further distances.
On its way to four decades of quality-driven service, AIR 21 is fueled by the millions of heartening stories reflecting all that's good about our service, people and social responsibility.
Good News
Micro, small  and medium enterprises can now enjoy premium logistics service for a cut-rate price with AIR21's Backhaul service, our way of helping MSMEs grow their customer base to Metro Manila and beyond. Offered exclusively to entrepreneurs based in the provinces, it is an opportunity for businesses to dream big and make it big. For inquiries, e-mail 
backhaul@af2100.com
.
Good Deed
On 
April 2
, AIR21 courier Marcelo Libres was on air in a radio show hosted by Raffy Tulfo. He had turned in a bag containing P15,030, IDs and important documents hoping the bag could find its way to its owner. Unknown to Marcelo, also present was the bag's owner, security guard Ronaldo Maton, who was apparently saving up for a motorcycle.
They were interviewed about how the bag was lost and found. Maton found out he lost his bag in Cubao after another motorist pointed out his backpack was open. Libres, meanwhile, found the bag by the road near Cubao MRT station. His first impulse was to find a way to return the bag to its owner.
AIR 21 commended Marcelo Libres for his selfless act and encouraged its employees to emulate his example.
Good Sport 
AIR21 successfully concluded the ninth edition of UCI-sanctioned Le Tour de Filipinas, which pooled bikers from here and abroad.
The four-day event kicked off on 
May 20
 with a route that began in Quezon City and finished in Palayan City, Nueva Ecija. The latter stages went from Cabanatuan City to Nueva Vizcaya (Bayombong and Bambang) and Ligayen, Pangasinan (Lingayen) to Baguio City.
Filipino rider El Joshua Cariño emerged as the victor after winning the Yellow Jersey – Overall Champion for Individual Classification. This is third win for the Philippines, following Baler Ravina's victory during the Le Tour de Filipinas 3rd edition in 2012 and Mark Galedo's feat during the fifth edition of Le Tour de Filipinas held in 2014 .
"This is our ninth year of supporting Le Tour [de Filipinas], and we will continue to support it because we share the same set of values. We are fast, safe and reliable," said AIR21 president Reuben Pangan during the Thanksgiving Lunch held at the Vikings Luxury Buffet, Marina Bay, Pasay City, last May 28.
Aside from promoting cycling as a sport, AIR21 and Le Tour de Filipinas highlight the tourism of the provinces featured in the routes through cultural activities at the end each stage.
No Comments