Air21 Blog Posts
By admin on July 2nd, 2013
AIR21, your total logistics solutions provider, celebrates the successful Comelec project for the 2013 Philippine Mid-Term Elections through Salamat (A Thanksgiving Party) that was held at the AIR21 headquarters in Parañaque City on 15 June 2013.
AIR21 delivered a total of 247,165 election paraphernalia in Luzon and Mindanao inspired by the organization's mantra of nationalism, "Para sa Bayan".
Loyal employees for 10, 15, 20, and 25 years were also recognized as part of the company's tradition of honoring devotion to work. During the inspirational message, silver year awardee and export supervisor Lorenzo Torre announced himself as speechless due to an overwhelming feeling of fulfillment and love in the company.
To cap the ceremonies, Lina Group Chairman Bert Lina recalls how his personal challenge back in 1979 brought him opportunities, hence leading to his assuring words that say "once you lose something, let it inspire you".
Following the recognition was a party featuring in-house talents and guest 90's band, Alamid.
See photos here.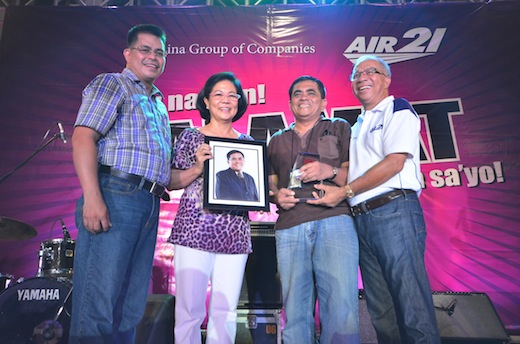 (From L-R) AIR21 President Jerry Jara, Mrs. Sylvia P. Lina, 25-year awardee Lorenzo Torre, and Lina Group Chairman Bert Lina
No Comments