Air21 Blog Posts

By admin on September 4th, 2012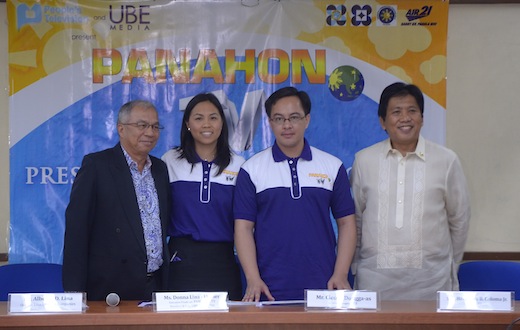 From L-R: Lina Group Chairman Bert Lina, Panahon.TV Executive Producer Donna May Lina-Flavier, People's Television Network (PTV ) General Manager Cleo Donga-as, and Presidential Communications Operations Office Secretary Herminio "Sonny" Coloma Jr.
The People's Television Network (PTV), in partnership with the Lina Group of Companies' (LGC) communication company, UBE Media Inc., will launch a weather program called PANAHON.TV which will pilot on September 10, 2012 at 5:00AM, with hourly live weather updates from the Philippine Atmospheric, Geophysical and Astronomic
al Services Administration (PAGASA) with weather correspondents April Enerio, Meg Siozon, Amor Larrosa, and Adrian Alcantara.
A press launch and memorandum of agreement (MOA) signing was held last September 3 at 3:00PM at the Philippine Information Agency (PIA) Media Center Building, Visayas Ave., Diliman, Quezon City.
Subsequent to the typhoons and inclement weather conditions that passed through the country, Mr. Alberto D. Lina, chairman of LGC, decided to provide a weather program for every Filipino that will serve as a portal for constant weather news, health advocacy, and timely comprehension on relevant matters.
PANAHON.TV aims to deliver most accurate and up-to-date weather information to the Filipino people. The program initiates social awareness and public service.
Aside from live weather updates, PANAHON.TV also consists of four (4) regular segments such as "Laging Handa", which provides various tips and reminders in times of crisis & natural calamities; "Tamang Oras", which includes trivia and facts about the right time or season to do certain activities; "Napapanahong Kaalaman", tells the viewers about the basic terminologies of weather forecasting; and "Sigla" providing us with tips and information on how the weather can affect on our health. PANAHON.TV will also have a special segment entitled "Ang Mundo ng PAGASA" which will feature the country's national weather bureau to re-educate the viewers on their role to its citizens.
"In line with being responsible corporate citizens, the Lina Group of Companies through UBE Media Inc. gathered young creative minds to present weather information and tips that will be useful and relevant to our country men," says Donna May Lina-Flavier, executive producer of PANAHON.TV.
To have a better understanding about PAGASA and how the organization prepares their weather forecasts, the producers and reporters of UBE Media Inc. and PTV recently attended an intensive 3-day Media Seminar by PAGASA-DOST in Clark, Pampanga.
PANAHON.TV is made possible through the support of the Philippine Communications Operations Office (PCOO), People's Television Network (PTV-4), PAGASA-DOST, and AIR21.
To interact with us, visit www.panahon.tv.
View press launch photos here.
Download Press Release.
No Comments