Air21 Blog Posts

By admin on July 31st, 2012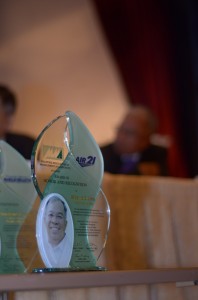 The 40th Founding Celebration of the Philippine Association of Management Accountants (PAMA) awards its top management accountancy advocates in the country. Among the awardees is Lina Group Chairman, Mr. Bert Lina, who received the "Award of Honor and Recognition for his Advocacy on the Importance of the Management Accountant as a Valuable Partner of Management in Creating Values for the Enterprise" last 27 July 2012 at the Manila Hotel.
"I would like to share my gratitude to my mentor – Mr. Luis Diaz", says Chairman Lina during his acceptance speech where he also reminisced the days of his service for PAMA Founder, Mr. Luis Diaz.
PAMA was established on 08 May 1972 through the leadership of Mr. Diaz whose core objective is the promotion of management accounting profession.
As a successful businessman, Chairman Lina gives high regard to the value of spirituality. His guiding principle, which was lifted from the Bible, proudly says "Love God with all your heart, all your mind, all your soul".
Other awardees include Dr. Lydia Balabat Echauz of Far Eastern University, Atty. Hermogenes P. Pobre of Manila Bulletin, and Hon. Eugene T. Mateo of Regulatory Board of Accountancy.
The award acceptance of Chairman Lina was accompanied by his wife, Sylvia, and three daughters and sons-in-law.
Click here for more photos.
No Comments