Air21 Blog Posts

By admin on July 23rd, 2012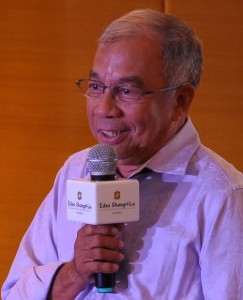 "We are with you always", says Bert Lina, Chairman of AIR21, the leading logistics solutions provider in the Philippines, as he expresses the third year support to the Run for the Pasig River.
The AIR21 involvement on the event started during the Guinness World Book Record-breaking "10.10.10 Run for the Pasig River" for the Most Number of Participants in a Racing Event followed by the "11.20.2011 Run for the Pasig River" which holds the record as the largest foot race graced by 86,547 runners. The 2012 Run for Pasig River will hold three events, namely 15K Ride and Roll for 500 participants, 15K Commonwealth Challenge for 2,500 participants, and the 5K Morning Madness with 80,000 runners.
Race bibs delivery is one of the prime services provided by AIR21. The Run for the Pasig River is an advocacy project organized by ABS-CBN Foundation's Kapit Bisig Para sa Ilog Pasig (KBPIP) led by its Managing Director, Gina Lopez.
In return, Lopez expressed her gratitude to Lina for the generous support that he has given to the program. The holistic effect of the project provides benefits to the economic, health, and social wellness of a community. On her report, she gave the highlights of the seven-year rehabilitation program that involves cleaning of the esteros and resettlement of 1,216 families in Laguna.
Proceeds of the 2012 Pasig Run will be for the progress of the Pasig River clean up and its neighboring esteros. Be an environment warrior and join the run by clicking here.
AIR21 cyclists will also participate in this year's edition of the Run for the Pasig River 09.30.2012 themed "Run, Roll, and Ride" and shall route in Quezon City.
View more launch photos here.
No Comments