Air21 Blog Posts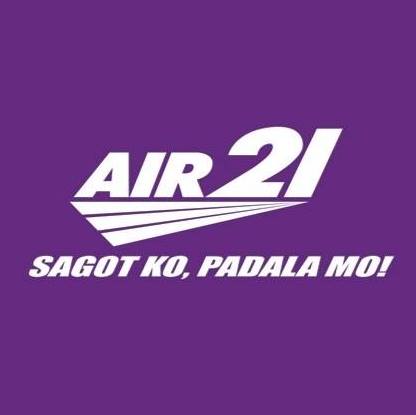 By admin on May 8th, 2012
AIR21, your total logistics solutions provider, is one of the finalists in Gawad Sinop Awards 2012. Gawad Sinop Awards is a prestigious individual and corporate awards for excellence in supply management that is honored by the Foundation of the Society of Fellows in Supply Management (SOFSM) and the Philippine Institute for Supply Management (PISM). It recognizes individuals and corporations that demonstrate the best practices to assure organizational efficiency through human resource development programs.
Being one of the finalists for the category of Corporate Excellence Award in Supply Management through its entry "Effective Use of IT to Drive Efficiency in Supply Chain", AIR21 Corporate IT Head, Tere Eisma, explains that the paper is grounded by three aspects that stand as backbone for the AIR21 supply chain solutions. The three-split aspects are (a) responsiveness to clients and company for operational transparency; (b) better collaboration by adhering to government regulations for total package security, and (c) contribution to the company's cost saving measures.
Eisma highlights that "success is always measured by the effectiveness of the solution and its positive impact to the organization". Along the thrust is a continuous learning process manifested through best practices for two years in AIR21. She adds that "by keeping up-to-date with the latest technology that can be applied to the organization, by knowing the business well so that we speak with the language of business, not IT and in the process be able to offer technological solutions that are rightly fitted to the ever changing business model of AIR21."
The AIR21 Corporate IT Head assures quality by living on the idea that "[success] can be measured against the goals of the organization and against the requirements/objectives to validate if these have been met."
Among the top nominees are EEI Construction, Convergys Philippines, and Nestle Philippines, with Nestle Philippines as 2012 winner. The Gawad Sinop Awards 2012 was held on April 19 at the SMX Convention Center during the SupplyLink 2012 Convention.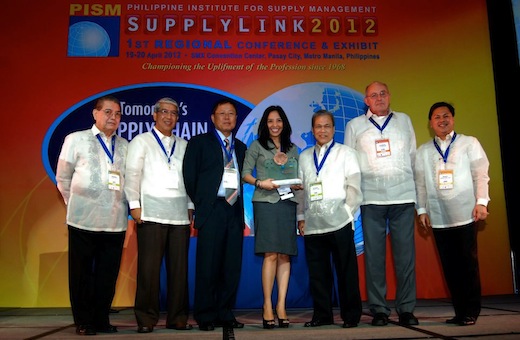 Corporate IT Head, Tere Eisma (center), with Gawad Sinop Awards 2012 officials during the trophy acceptance, 19 April 2012.
No Comments