Air21 Blog Posts

By admin on August 15th, 2011
AIR21, your total logistics solutions provider, powers the premier triathlon competition in the country known as the Cobra Energy Drink Ironman 70.3 Philippines at CamSur Watersports Complex on 14 August 2011.
AIR21 facilitated the bike logistics from the airport / hotel to CamSur and vice versa. The AIR21 purple tents housed the participants' bike check-in and claim area. AIR21 premium items brought excitement despite the swing of weather during the speed stacking game for kids and golf putting for adults entitled "Pitch a Ball, Win a Prize".
AIR21 also provided Donna's Cup Catcher conceptualized by AIR21 Chairman Bert Lina's daughter, Donna Lina-Flavier. The cup catcher is a simple bin designed to catch water cups of runners during the race.


A total of 1,117 triathletes from 28 countries vied for the Ford Ironman World Championships in Kailua-Kona, Hawaii. Event includes 1.9 km swim, 90-km bike, and 21.1 km run. Australian triathlete Pete Jacobs won his second Cobra Energy Drink Ironman 70.3 Philippines championship title for this year.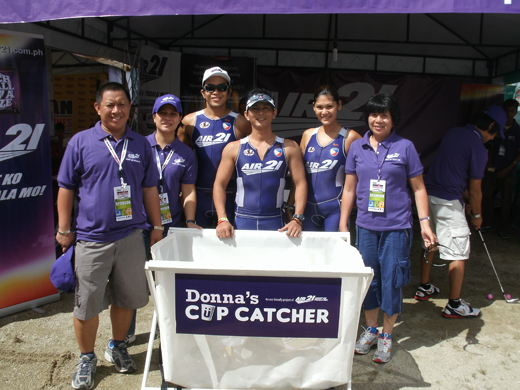 1 Comment