Air21 Blog Posts

By admin on June 21st, 2011
AIR21, your total logistics solutions provider, spearheads the first Philippine industry-based academy recognized by the International Network of Customs University as it launches the AIR21 Academy of Developmental Logistics during its 32nd Anniversary on June 21.
"This will be a new wave of the new things that we will do", says Lina Group of Companies Chairman Bert Lina.
The AIR21 Academy of Developmental Logistics will be the center of training programs designed not only for logistics education but also in enriching every employee's professional growth. It will be one of the pillars of nation building as it continues to provide the avenue to hone the best people in logistics.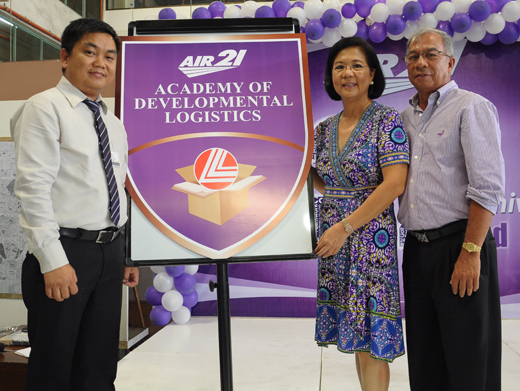 (From L-R) AIR21 Academy Director Sam Bautista, Mrs. Sylvia P. Lina, Chairman Bert Lina
The Chairman's vision to "dominate the competitors this year" are backed up with changes and improving facilities that will be in effect within AIR21 and its affiliate companies. Also, advancing the Integrated Mobile Application with the use of the Intermec will empower the operations further including its work force.
Eight new trucks, part of the 22 vehicles acquired from Jinbei Auto, were blessed during the anniversary. These new vehicles were chosen by AIR21 because of fuel efficiency and competitive quality, says Fleet Manager Deney Hinojas. The newly blessed trucks are routed within the South Luzon Region.
Prior to program adjourn, an AIR21 anniversary cake delighted the crowd which led them to sing a birthday song.
(From L-R) AIR21 President Jerry Jara, Jinbei President Romy To, Mrs. Sylvia P. Lina, LGC Chairman Bert Lina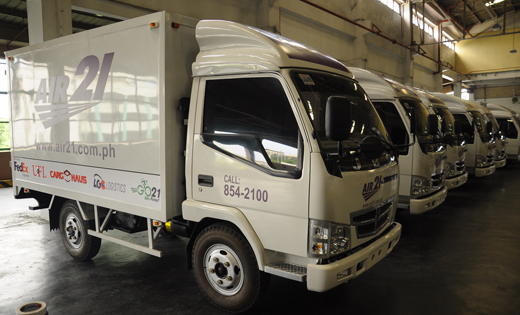 New AIR21 trucks ready to dominate the industry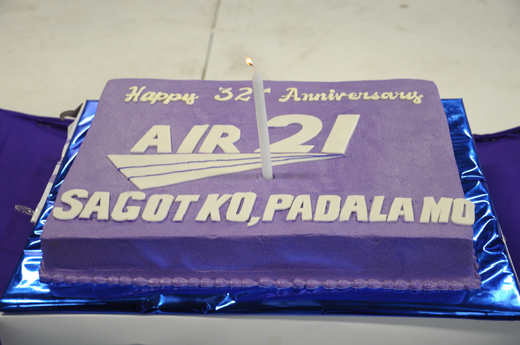 AIR21 anniversary cake delighting in purple
No Comments